The Dark Legacy of the Indian Boarding School System Every American Needs to Know – The 74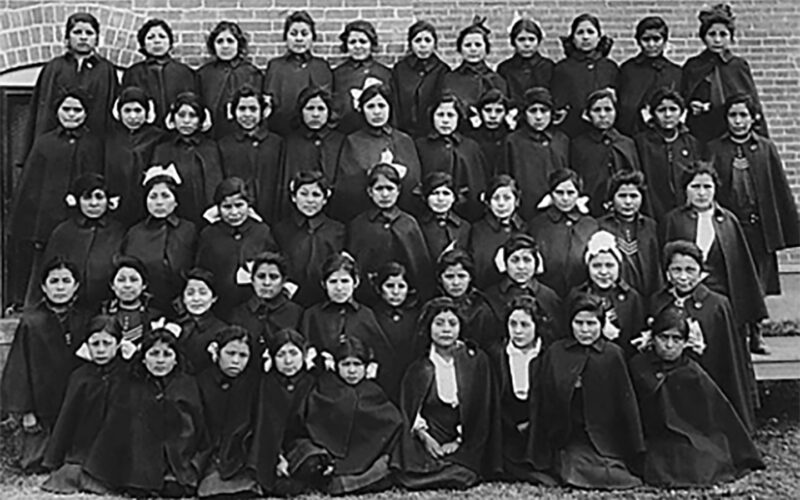 register here for The 74's daily newsletter. Donate here to support The 74's independent journalism.
This week, the US Department of the Interior released a 100-page report on the lasting consequences of the federal Indian residential school system.
You may recall that last June, Secretary of the Interior Deb Haaland, a registered member of the Laguna Pueblo, announced that the federal agency would investigate the extent of the loss of life and the legacy of the federal Indian boarding school system, a chapter in American history that many Americans are familiar with. little to nothing.
This week's report is perhaps the first in a long series, and it deserves to be read by as many Americans as possible.
Here are some of the main findings of the survey:
Beginning in the late 1800s, the federal government removed Indian children from their families in an effort to strip them of their culture and language.
Between 1819 and 1969, the United States operated or supported 408 boarding schools in 37 states (or then territories), including 21 schools in Alaska and 7 schools in Hawaii.
Of these 37 states, New Mexico had the third highest concentration of facilities, with 43, behind only Oklahoma and Arizona.
The schools "deployed systematic methodologies of weaponization and identity-altering in an attempt to assimilate Native American, Alaska Native, and Native Hawaiian children through education, including, but not limited to, the following: (1) renaming Indian children from Indian names to English names; (2) cutting the hair of Indian children; (3) discourage or inhibit the use of Native American, Alaska Native, and Hawaiian languages, religions, and cultural practices; and (4) organize Indian and Native Hawaiian children into units to perform military drills.
The federal Indian boarding school system focused on manual labor and vocational skills that left Native American, Alaska Native, and Native Hawaiian graduates with employment options often unrelated to America's industrial economy, disrupting more tribal economies.
Boarding schools in New Mexico started early.
Two years after the first boarding school, the Carlisle Indian School in Pennsylvania, opened in 1879, the Presbyterian Church opened the Albuquerque Indian School (AIS) for Navajo, Pueblo, and Apache students. Later, the school came under federal control.
The Albuquerque Indian School deserves several mentions in this week's report, including five photos as I counted them of young Native girls and boys in class, and of the building itself.
I know a few details about AIS. Last year, New Mexico In Depth published an article that revisited the history of the Albuquerque Indian School in the larger context of the boarding school system.
As well as locating boarding schools across the country, this week's report identifies at least 53 burial sites for children across this system – "with more site discoveries and data expected as we continue our research". The authors declined to state their whereabouts.
One such burial site is at the east corner of 4H Park in Albuquerque, a resting place for the children and staff of the Albuquerque Indian School from 1882 to 1933. He is known in the city for decades. A 1999 study included it in a survey of known cemeteries and burial sites across Albuquerque. After a single marker commemorating the internment disappeared, there was little to mark the burial site except for makeshift memorials put up by community members. But after news broke of the discovery of a large, unmarked burial site at a Canadian boarding school last summer, the city began a formal reconciliation process, working with tribal leaders from across the southwest, including Pueblo, Navajo, Apache and others, as well as with people who have a connection to the site.
The Department of the Interior report features images of other boarding schools in New Mexico: Santa Fe Indian School; and to the west, Rehoboth Mission School, Tohatchi and Zuni.
And he describes the forced removal of the Mescalero children, quoting American Indian agent Fletcher J. Cowart as he described attempts in the 1880s to take the Mescalero and Jicarilla Apache children, the resistance of chiefs and tribal nations and his use of Indian police to forcibly remove the children. children from their home.

It is not known how many indigenous children went to boarding schools. But the National Native American Boarding School Healing Coalition estimated that "hundreds of thousands of Native American children have been removed from their homes and families."
In 1900, "there were 20,000 children in residential schools, and by 1925 that number had more than tripled," according to the group. "They suffered physical, sexual, cultural and spiritual abuse and neglect, and endured treatment that in many cases amounted to torture for speaking their indigenous languages. Many children never returned home and their fate has yet to be explained by the US government.
These atrocities were no secret.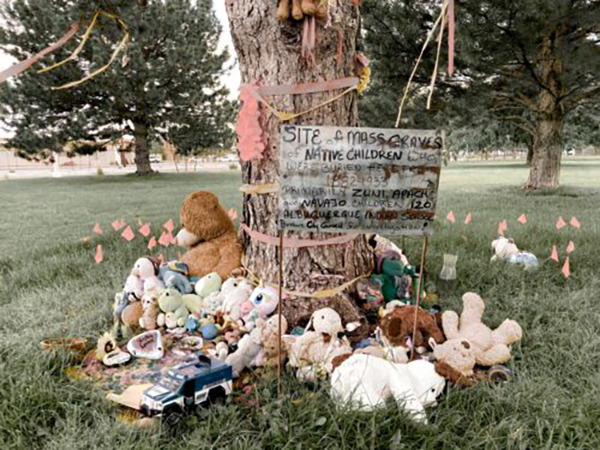 Our story last year highlighted that over the past century government reports have sounded the alarm about boarding schools, beginning with the Meriam Report of 1928, which criticized the schools' inadequate facilities and the removal of children from their homes. This report has repeatedly emphasized the need for a culturally relevant curriculum for children.
Forty years later, in 1969, the Kennedy report came out, sounding more alarms.
The impacts of boarding schools have been profound. This new report describes cultural and family disruption and tribal erosion. He points to a recent report that studied the physical health status of now-adult boarders, finding that those who attended boarding schools are more likely to suffer from chronic physical illnesses, as well as an increased risk of stress disorder. trauma, depression and unresolved disorders. pain.
"The direct and indirect results combined…show that Native Americans who attended boarding school have lower physical health status…than those who did not," according to researcher Ursula Running Bear, whose study was funded. by the National Institutes of Health.
Now, in 2022, we have another report.
As I read it, a quarter of the way through that sentence jumped out at me.

It's a quote from the Kennedy report.
Reading these words made me introspective. I remember, when I was young, saying "Manifest Destiny" on occasion when talking about the history of this country. That's what I learned in school in Georgia decades ago.
After living nearly 17 years in New Mexico, where I was confronted with the disturbing and often horrifying history hidden in the shadows by this phrase, I better understand the problem of saying "Manifest Destiny" to describe how this the country came to extend from sea to sea. I knew about broken treaties, the removal of entire nations from their ancestral lands, the deliberate campaign to deprive native speakers of their languages ​​- the list goes on. I had read about it in books and magazines, seen films and documentaries. But it's one thing to read about it, stripped from the blood and guts of the human toll, and quite another to see the effects of more than a century of discriminatory federal policies and laws. Hearing friends and acquaintances give an alternative account of continental expansion that impacted their great-great-grandparents and subsequent generations, right down to their children – it makes a difference, putting a human face the stories you read in books.
Living in New Mexico has been part of my educational journey. It helped me unlearn what I learned in school. And I want to continue training.
I hope we all will. But based on the political debate of the past few years, where so many seem reluctant to face uncomfortable truths about this country, I don't know if America is ready to learn this particular story 94 years after the groundbreaking Meriam Report
For the sake of all of us, I hope I'm wrong.
This story was originally published by New Mexico In Depth
Get stories like these delivered straight to your inbox. Subscribe to the 74 newsletter