Coweta County School System Honors 2022 Teachers of the Year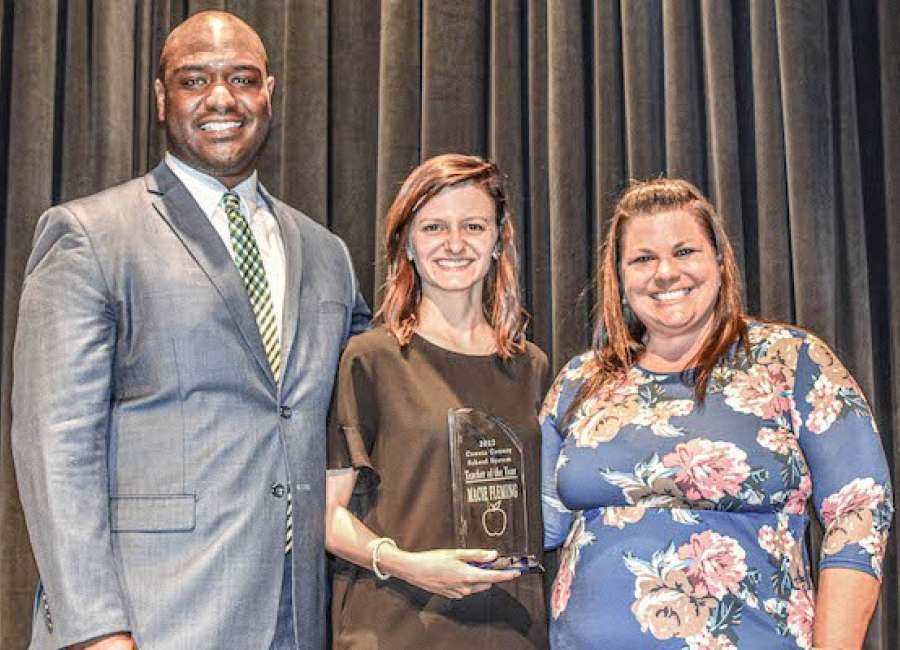 Macie Fleming, a third-grade teacher at Welch Elementary School, is Coweta County's 2022 Teacher of the Year.
Fleming was recognized at a celebration of the school system's 33 Grade Level Teachers of the Year, held Tuesday at the Nixon Center for Performing and Visual Arts.
"I am touched and honored to be here surrounded by such incredible, talented and passionate educators who have made such a difference in the lives of our students every day," said Fleming.
Fleming, who graduated from Newnan High School in 2015, first came to Welch in 2018 as a student teacher. She earned a Bachelor of Science in Early Childhood Education from West Georgia University the same year, graduating with a Master of Education in Elementary Education in 2021.
She taught kindergarten at Welch from January to May 2019, then taught second grade for two years. Fleming is completing her first year as a third-grade teacher at Welch.
Brandavious Mann, special education teacher at Newnan High, and Adrienne Kocin, math teacher and family engagement coordinator at Evans Middle, were also selected as finalists for the honor.
All Coweta County Teachers of the Year are honored at an annual ceremony sponsored by the Coweta County School Board and the Newnan Pilot Club. They are selected at the school level by the other certified teachers in their school.
Teachers of the Year are chosen in recognition of exemplary teaching and serve as ambassadors for their profession.
This year's winners represent grade levels from kindergarten to grade 12 and come from a wide range of educational disciplines, including elementary education, math, science, language arts and history, l special education, physical education, drama and school media services.
They understand:
Symony Griffiths, Special Education, Arbor Springs Elementary
Lauranne Payne, Kindergarten, Arnco-Sargent Elementary
Kristen Yates, fifth grade, Atkinson Elementary
Lisa Luker, first grade, Brooks Elementary
Amanda Stevens, second grade, Canongate Elementary
Lisa Bourque, second grade, Eastside Elementary
Laura Hightower, first grade, Elm Street Elementary
Angela Nouryeh, first year, Empower program
Michelle Turner, second grade, Glanton Elementary
Charlene St. John, first grade, Jefferson Parkway Elementary
Katie Capshaw, third grade, Moreland Elementary
Amy Cooper, first grade, Newnan Crossing Elementary
Olivia Strozier, Special Education, Northside Elementary
Robin DeMent, EIP, Poplar Road Primary School
Austen Martin, second grade, Ruth Hill Elementary
Kara Fretwell, Kindergarten, Thomas Crossroads Elementary
Kara Hooper, fourth-grade math, Western Elementary
Ashlee Grace Chitwood, music, White Oak Elementary
Whitney Kling, Special Education, Willis Road Elementary
Jennifer Davis, eighth grade social studies, Arnall Middle
Ashley Dawson, eighth grade, Blake Bass Middle
Stephanie Ferrari, Grade Six and Seven Gifted Science, East Coweta Middle
Laura Dalton eighth grade math, Lee Middle
Jennifer Rogers, Special Education, Maggie Brown Middle
Jeff Welch, eighth grade Georgia Studies, Madras Middle
Donny Blacksher, Health and Physical Education, Smokey Road Middle
Vickie Waldrop, Special Education Grades 8-12, Central Educational Center
Pamela Foulks, Family Consumer Science, East Coweta High
Cassie Scott-Fortune, theater and theater manager, Northgate High
Nekada Lewis, Media Specialist, Winston Dowdell Academy
As Teacher of the Year, Fleming will also be Coweta County's nominee for Georgia's 2022 Teacher of the Year.